Want To Make A Fortune From Coiled Cryptos?

Here's what to do now:
James Altucher here with the next step to best position yourself for the coming wave of cryptocurrency fortunes.
Now is the perfect time to grab your share of valuable cryptocurrencies for dirt cheap prices.
If my predictions are correct, just one of these Coiled Cryptos could explode 8,788% by 2025…
Turning a $1000 investment into $88,880.
Not only that, but I've identified nine other Coiled Cryptos that could rocket even higher and faster.
One of them is trading for just 10 cents.
As I just showed you, these coins are primed to rocket back up to their previous highs… and way beyond.
Yes, even during a crash and recession. This is based on the pattern of the 90s dot com bubble that I've studied and used to make a fortune. And I wasn't the only one. Investors who played that correctly also became rich.
We're looking at a similar pattern in cryptocurrencies… except this has the potential for bigger and faster gains.
The first triggering event for these Coiled Cryptos was the Ethereum merge.
And even though some thought the merge would never happen, I accurately predicted it would.
The next triggering event is when crypto reaches 1 billion users, which some are predicting will happen by the end of this year.
Right NOW, we are in a sweet spot where the Coiled Cryptos are ready to spring.
That's why I'm pleading with you to take action NOW while there's a small window to follow the "Coiled Cryptos" plan I've created for you.
Cryptocurrencies are still the best and fastest way I see for the average investor to make a fortune in today's market.
Because of how the market has crashed, you're now facing a chance to pick the rare cryptocurrencies that could be valuable in the future…
… and increase your personal wealth.
But you can't just buy any cryptocurrencies and expect to get rich…
You must know exactly which ones have the greatest potential.
With your strict permission, I'd like to send you absolutely everything you'll need, starting with:
SPECIAL REPORT: Coiled Cryptos To Make A Fortune
Inside this new report, you'll get the exact names of 9 Coiled Cryptos so you can best position yourself for the chance to make a fortune.
As you learned, the recent crash has opened up the perfect opportunity to grab these Coiled Cryptos for dirt cheap prices.
Then… much like a coiled spring suddenly unleashing… their value is poised to explode.
After you read this report and decide to act, you can easily be the proud owner of all 9 Coiled Cryptos in less than 20 minutes.
The last time I made this kind of prediction, I turned $25,000 into $2,000,000 in just 4 and a half years. This time, I want you on the ride with me.
PLUS, by joining me today, you get:
12 months of my monthly newsletter, Altucher Investment Network… This is my flagship newsletter, where I will keep you up-to-date on how to make money with cryptocurrencies. I'll also be revealing some unique and unusual ways to make money from other forms of investment, all explained as simply as possible, step-by-step.
Access to my Monthly Mastermind Sessions… They say that when it comes to making money it's not what you know… it's who you know. When you sign up today, you won't just be gaining access to all of my insights… You'll also get access to my entire rolodex. I'm on a first-name basis with nearly everyone in the crypto industry. And starting today, I want to open up my connections to you. Every month, I'll send you an interview with a top crypto expert where we cover everything that's going on.
A private access link that allows you to join an exclusive live session with me once a quarter... This is where you'll be able to get on a call with me and a small group of other members as I give you my analysis and update you on exactly what's happening in the markets.
Exclusive access to the investing secrets of my network of the 1%, including new technology companies, crypto updates, investment opportunities behind the next big trends and more
FREE ticket to our live events… At these live or virtual events, you can hear from and shake hands with some of the biggest names in finance and investing. People like George Gilder, Jim Rickards, and more…
Access to our private model portfolio updated in real time… You get all my current Altucher Investment Network investment recommendations. You also get recommended portfolio allocations, so you're never lost on where you need to put your money as we enter the next wave of the fortune-making cryptocurrency market.
Special "Fast Action" Bonus: The Big Book Of Crypto… For taking fast action today, I'm also going to send you a free PDF copy of my book that will give you insider knowledge of the cryptocurrency universe. Inside, you'll discover the obscure crypto bank account that has paid up to 17.7% interest a year… how a 14-year-old from Texas made up to $32,000 per month with crypto starting with only a few thousand dollars… and how to easily buy crypto in 60 seconds using an app that's probably already on your phone.
You'll also receive FREE subscriptions to our daily e-letters: The Daily Reckoning, The Daily Proof, Daily Crypto Hunter, The Rude Awakening, and 5 Minute Forecast.
You get all this with a risk-free trial subscription to Altucher Investment Network.
This is an amazing deal you won't find anywhere else. But I'm going to make it even better…
Get All This For As Little as $49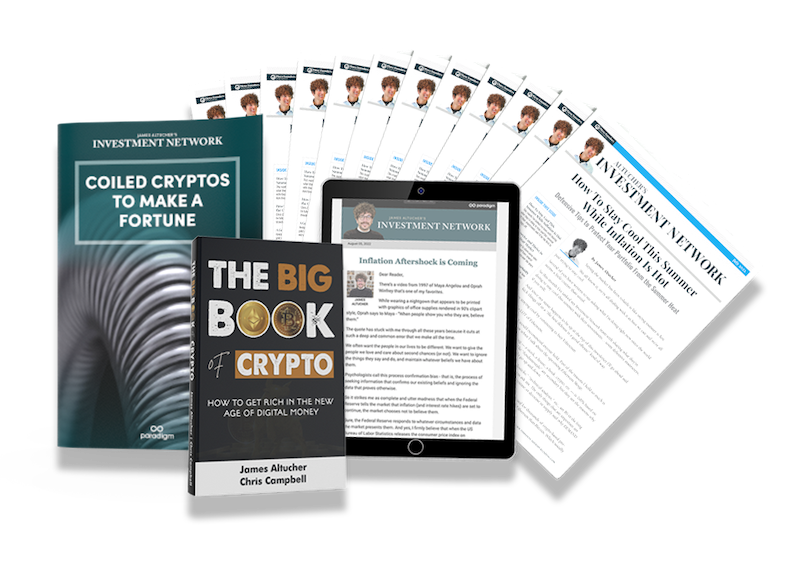 The regular price for a one-year subscription to Altucher Investment Network is $299.
However, when you accept my invitation today, I want to give you a generous 83% discount.
That means you can subscribe to my newsletter and get everything I listed today for as little as $49.
You'll immediately receive a digital download link for your report and book -- plus immediate access to my newsletter and the other benefits described above.
These Coiled Cryptos could explode upward as soon as tomorrow. I highly suggest you take advantage of what I have for you right here and right now…
And you will be joining good company. Here's what some of my past members have had to say.
Remember… I want to make sure you are 100% satisfied with your order.
I'm asking you to take a full 180 days to review everything listed here…
Including the special report, book, my newsletter, the complete model portfolio, dozens of back issues, and more.
Print out all the report and book if you wish. Save them on your computer. Everything I want to send you is yours to keep no matter what. It's my gift to you for taking a chance on me.
As soon as you read your report, you can decide to own a stake in all 9 Coiled Cryptos in under 20 minutes.
And if you're not happy for any reason with your new subscription, simply contact my customer service team and they'll issue you a prompt refund for every penny of your subscription.
After the 6-month trial period is up, you're still free to cancel anytime. And you won't owe a penny more.
I'm taking all the risk here. And that's OK. I'm willing to do this because I want to do everything possible to help show the average investor how to make a fortune.
To get started, simply fill out the secure order form below. We'll immediately send you an email confirming your order with our contact information (in case you have any subscription questions), along with instructions on how to access everything I've promised you here.