Urgent: You Only Have Hours Left To Claim Your Membership To
Countdown to Crisis
With Jim Rickards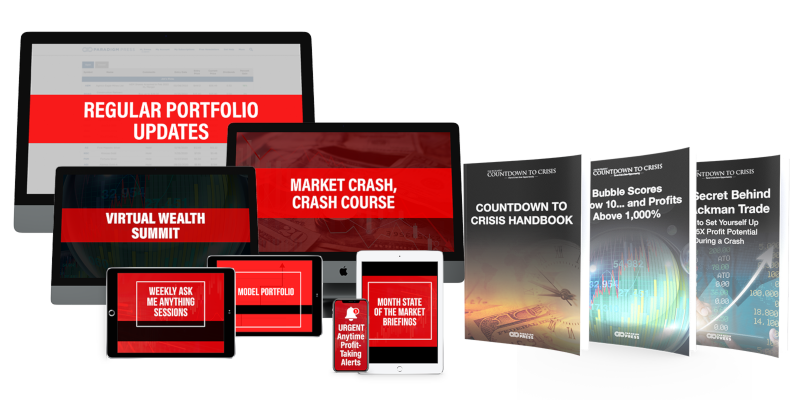 Congratulations!
If you are on this page it means you still have a few hours left to claim a membership to Countdown to Crisis.
With our system, when we target companies with bubble scores below 30…
An investor could've made a fortune over and over again as the markets crashed…
Like when the bubble CalAtlantic Group stock collapsed and handed investors gains as high as 1,025% in around 9 months…
Enough to turn a tiny $1,000 starting stake into more than $11,250.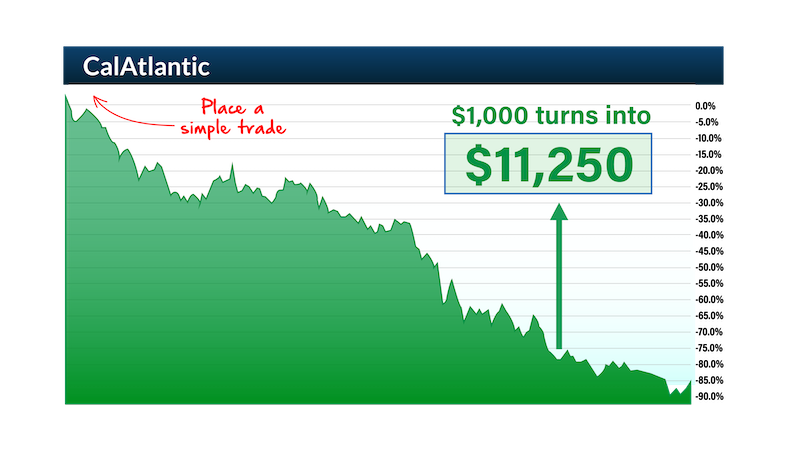 Or when the bubble on OSI Systems stock collapsed and handed investors gains as high as 1,620% in a little over 3 months.
Enough to turn a $1,000 starting stake into $17,620.
And when the Penn National Gaming bubble imploded giving investors the chance to take home life changing gains for 2,650% in less than a year.
Enough to turn $1,000 starting stake into $26,500…
And a $10,000 starting stake into $265,000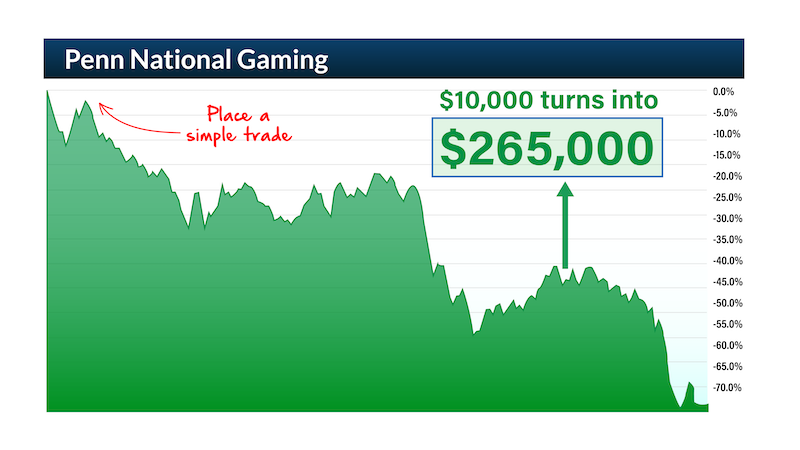 And while no one can promise you'll always see gains as high as these historical examples, and all investing comes with risk.
The Bubble Score system is the best way I've ever seen to profit during a market crash…
So there's no time to waste.
And to help you take advantage of this opportunity…
Instead of charging you the $150,000 a year it costs me to maintain this system…
I'm inviting you to join my brand-new research service, Countdown to Crisis with Jim Rickards, as a member for just $3,000.
Remember Countdown to Crisis is the ONLY place where I'll be publishing these Bubble Scores and making my recommendations to profit from these opportunities.
I believe this research service will be the definitive guide to managing your wealth during a time of crisis…
That's why in addition to your discount, I've thrown in several bonuses that could be valued at more than $14,998…
In fact here's a list of everything that you'll receive as a member.
Countdown to Crisis Recommendations — Whenever opportunity arises, I'll send you a recommendation for a new play. The analysis will walk you through everything you need to do to use our bubble finance trade recommendations to potentially make a lot of money quickly, with minimal risk. You'll receive two opportunities per month, on average.
Urgent Anytime Profit-Taking Alerts — When it's finally time to take gains, we'll blast you out an urgent email – telling you exactly what to sell and for what potential gain. It couldn't be easier.
Regular Model Portfolio Updates — I'll send you regular updates on our model portfolio so you know exactly when to sell and hold each of your positions. There's no guesswork. It's all done for you.
Full Access to the Countdown to Crisis Library — During your membership, you'll have full access to my Countdown to Crisis library. Look through the site.
Access to the Countdown to Crisis Allocation Model — Because I want this service to be a complete guide during a crisis, in addition to sending you Bubble Score opportunities, I'll tell you exactly how I recommend you allocate a portfolio based on various net worths, along with different recommendations in different sectors. Whether its stocks, bonds, alternative assets, precious metals, or real estate, you'll never have to worry about doing the wrong thing as this crisis unfolds…It's as close as you get to having a hedge fund manager.
Weekly Ask Me Anything Sessions — Even though I can't give out personalized investing advice, you can submit questions to my team for me to answer and I'll post responses to the best questions.
Monthly State Of The Market Briefings — My team and I will hop on a call once a month to cover everything I've learned during my research and from my deep connection on both Wall Street and in the wider intelligence community. This is as close as you can get to having access to my personal rolodex of contacts and connections.
You don't have a second to spare.
All you have to do is fill out the simple order form.
It'll only take you a minute or two to complete.
As soon as you do, you'll get an email granting you access to everything we've talked about today.
The only question is, when this crash finally hits…
Will you be one of the people that altered the course of their financial future…
Or will you just be one of the lambs that got led to the slaughter?
It's your call.
Act now and secure your spot.
I look forward to welcoming you as a member.

Jim Rickards
Editor, Countdown to Crisis